Shutters are so much more than a window covering. When you think about it, they're a blank canvas for your home or office. And when you Pair Plantation Shutters With Curtains in all of the different styles of plantation shutters available, you have an almost unlimited design potential.
From traditional to modern and everything in between, let's take a look at how popular these exotic wood shutters really are. You may want to consider using a shutter made from plantation wood. It's an eco-friendly alternative that can be used for an array of purposes, including exterior and interior shutters.
When you are trying to decorate your house, there are various factors that you need to take into consideration. There is the color scheme of course, but also the furniture and other things like lighting fixtures. One thing that can really make a room seem much more inviting than it would otherwise be is plantation shutters.
These are shutters that fit inside windows and provide them with an elegant look which will add a lot of style to any room in your home. Pairing curtains with plantation shutters can be a great way to ensure your windows are protected while still making the most of natural light. To put curtains over shutters you need to look at a multitude of options. Let's move on with considerable factors & Tips to pair plantation shutters with curtains!
Tips To Pair Plantation Shutters With Curtains
When you have decided to design a shutter curtains window, you must have to know about the combined functionality of these two window treatments.
Pairing your window treatments with a plantation shutter would be the best way to go for a variety of reasons that we'll discuss further in this article. Before we move on, let's know about the tips that you are required to know to pair plantation shutters with curtains. Have a look!
Blend Shutter With The Tones Of Curtains
No matter which part of the home or office you design & Decorate, connectivity between decorative assortments is really important. When you want to put together a shutter with curtains you must consider the color of the curtains. Not all tones of curtains will look perfect with plantation shutters.
Moreover, for this pairing, you need to first get your plantation shutters installed, as they are directly fixed into the window. After that, you must choose curtains & other curtain accessories.
These shutters are available in almost every color shade, so it would not be difficult for you to choose the most blending curtains with your plantation shutters. You can choose to blend multiple shades to give a more appealing look to your windows.
Do Consider The Types Of Curtains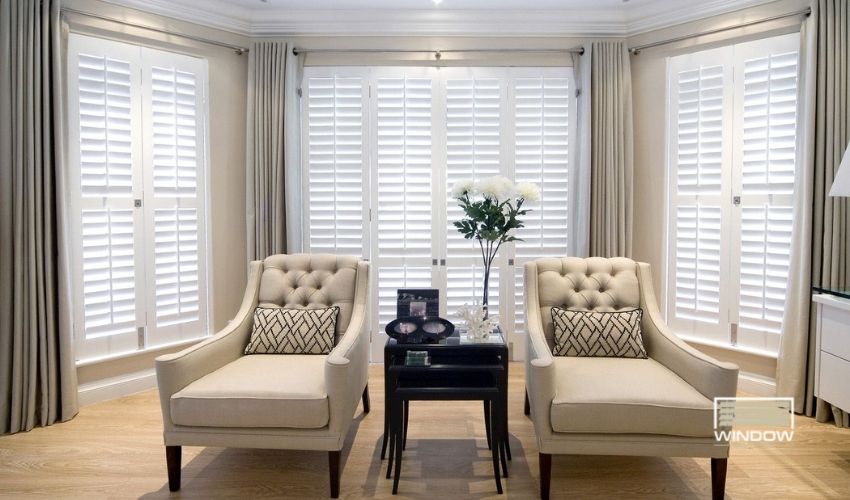 This is yet an important tip you need to consider. Shutters are available in solid textures & blending those textures with the most complementing types of curtains can be a bit time taking. Apart from the basic functionality not all types of curtains come with the same features. Before you go out to find the best curtains you need to clarify your needs.
This is because your needs will determine the type of curtain to pair plantation shutters with curtains. Like if you want to have a complete dark atmosphere then you can go for blackout curtains, for light filtering purposes add sheer curtains, for a simple & Decent look install linen curtains & for the royal look you can consider velvet curtains.
All these curtains are available in the best reputable curtain stores with the most inspiring designs and proper functionality. Pairing curtains with a shutter will add more functionality to it and enhance the look of your window.
Both Window Treatments Must Blend In Your Overall Decor
No matter if you are reading this guide for decorating your home, office, restaurant, or cafe curtains, interior themes are important. With that concern, we suggest considering the theme of interior decor to find the most blending home, office, or cafe shutters with curtains.
Your interior decorating theme needs to be blending with your curtains and shutters. Not only does the color, design, style, or size of shutters & Curtains matter but also they need to be complementing the overall decor of your home.
Let's Check Out The Perks To Pair Plantation Shutters With Curtains
Pairing plantation shutters with curtains can be a trending way to enhance the look of your windows. Blending these outclass window dressings will surely add value to your space and upgrade the standard of your interior decor. Read about the few perks you'll enjoy with this transitional makeover.
Enhance The Aesthetic Value Of Your Space
Combining these window-dressing will surely enhance the visual appeal. Covering your windows with the two most appealing & attractive window dressing options will let you improve the aesthetic value of your window. You can choose to make stunningly attractive decor along with the blends of these effective & Efficient window treatments.
Add Efficiency To Your Windows Functionality
No matter what your concerts are pair plantation shutters with curtains, but mixing together these window dressings will add up to the functionality of your windows.
They can surely enhance the functionality & efficiency of your windows. Your windows will be more functional, make your atmosphere acoustic, and allow you to transition the working of windows to have a dark or light filtering atmosphere.
Your Interior Assortments Will Be More Protective
With a bundle of perks, this one would be great that your interior assortments will be safe and secure from the dust, debris & toxic UV-rays that may enter your space and damage your furniture or other assortments.
With the double layer of the window shutter, you can perfectly project everything inside while having a great aesthetic appeal.
In The End!
So for your query on how to pair plantation shutters with curtains, we at window shutters have listed the most important tip to consider. Reading the complete guide with keen concern will let you know about the right method and best perks of pairing these two window dressing options.
Hopefully, this guide will help you in improving the look of your windows. Do let us know in the comment section about your view on this article!