Curtain designs make your house look more beautiful. But sometimes you need to have Curtains ideas for large windows that will make the window look smaller. In this article, we will talk about 10 amazing and unique curtain ideas for large windows that can be used in any room of the house.
Bold and unique curtains are something that can instantly change the look of a room. The right curtains will make an area of your home look more modern, chic, cozy, or sophisticated.
They can also visually open up a small space, while simultaneously adding texture and pattern to it. If you have large windows in your living room or bedroom and you're looking to create a bold statement with the right Curtains Dubai ideas for them, then this article is just what you need! We've compiled the 10 best curtains for wide windows. Let's check them out!
9 Classic Curtain Ideas For Large Windows
Large windows can be a prominent design feature in your home. But "great" doesn't mean that the space must go bare. Large windows deserve large curtains and valances, creating a focal point while adding softness and simplicity to any room decor.
Curtains are a great way to add some flare or even a whole new look to any room. They can darken, lighten, or change the atmosphere of the room, depending on what type of curtain you use.
Below are 10 classic styles and Curtain Ideas for Large Windows. You may be inspired by one of these ideas when decorating your own large windows. These curtains are not only creative but easy to make. Let's look at them!
These are not the recently innovated curtains for big windows but these curtains will never go out of trend. Sheers are lightweight curtains, most commonly used in pairs. These curtains are easy to maintain & easy to keep clean. You can easily use them on large windows.
Blackout curtains are the perfect solution for blocking out light from large windows. If you live near a busy street or have a room that faces east, then blackout curtains will help you control the amount of sunlight in the bedroom & cover the whole of your window.
Velvet curtains are the new trend in interior design. With the luxurious choices, incorporate these curtains in your home for large windows as they can be used for many purposes.
Velvet curtains are timeless luxury window dressings that can transform any room. They are great at functionally performing in big windows.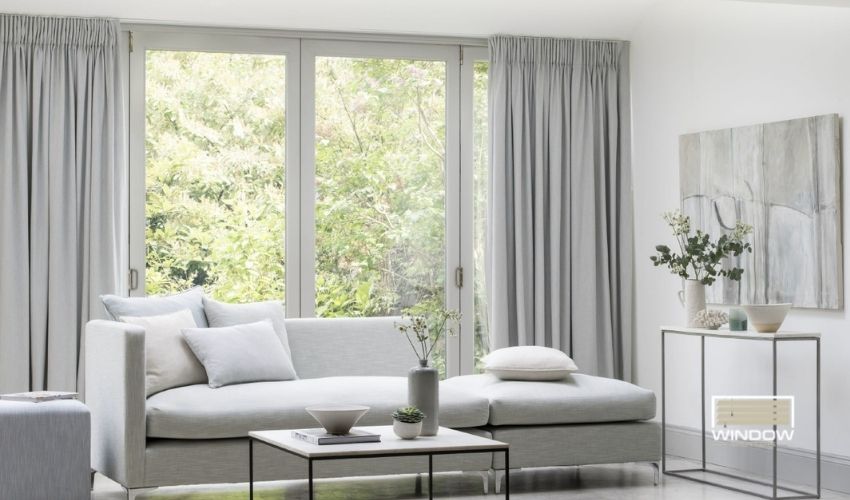 Linen curtains are made of lightweight fabric that has a natural ability to filter out light. The linen drape is an elegant way to add style and comfort to your larger windows.
The fabric, which is made from flax fiber, has been used for centuries in the making of clothing. Its durability and thin nature make it ideal for use as a curtain product.
5. Simple Cotton Curtains
Cotton curtains have been around for a very long time to cover large windows. The fabric has been used to make curtains and draperies for many years now and it is still among the most popular fabrics that are being used today.
Among the most appealing curtain ideas for large windows, these curtains are one of the most basic forms of interior decoration. These curtains can play a major role in decorating a home and can even create an entire theme in your house.
6. Luxurious Silk Curtains
Silk is one of the most luxurious materials used to make curtains. It's versatile, beautiful and its simple drape can give a large window a high-end look.
You can choose from unique patterns like paisley print or plain solid colored aesthetic curtains. They are perfect for almost any room, whether you need them for your living room, bedroom, or even bathroom!
7. Multi-shaded curtains
Adding multi-shaded curtains can be one of the effective curtains ideas for large windows. They offer a great way to increase office privacy without compromising the look of your office.
Being available in multiple shades, these curtains are great at covering your big windows completely without compromising the theme of your house.
Motorized curtains are a substantial investment for any home. There are many styles and designs available that can be used on large windows.
These curtains will add functionality and make you comfortable to move your curtains on big windows and you can operate them with the help of remote control. So these curtains are perfect for you!
These types of curtains are a basic need for everyone. We need to have an acoustic atmosphere while taking a rest, reading a book, or doing any other activity.
For that purpose, soundproof curtains are perfect for your space. These curtains are made up of thicker fabric. Find the best functional soundproof curtains for yourself!
In The End!
For covering up your large windows, if you're looking for the best curtains choices, then consider reading this article. We at Window Shutters have listed the top 9 curtain ideas for large windows that are all according to type, functionality, & fabric.
You can choose any of the desired options for your big windows. You'll surely find this article informative, let us know about your large window treatment ideas in the comment section about your views!